Of course, I am not suggesting that statistics are lies or damn lies but the way they can be, and frequently are, used to fool people is deceitful. Perhaps the best exponents of the art of pulling the wool over peoples' eyes are those who themselves do not properly understand what the statistics mean – they draw false conclusions and confidently fool themselves - there's nothing more convincing or reassuring than the person who blindly believes something and quotes what seems like hard maths to prove their point. Most people do not have a deep appreciation of statistics, maths, physics, chemistry or biology or general reality to spot the flaws that should ring bells loudly.
Here is a great cartoon which illustrates the problem.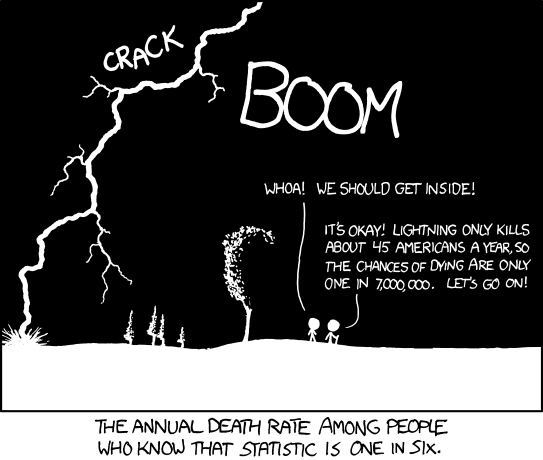 cartoon credit – the excellent XKCD site
The confident statistics stickman in the cartoon has jumped to a false conclusion from the figures. The essence of his mistake is that the statistic he quotes relates to all Americans doing their normal activities for one year. Of these, 45 will get struck by lightning and die. He divides this number into the population of America and comes up with an extremely small chance of being struck by lightning in one year and then applies it to his current circumstances and confidently believes that the risk of "going on" is very small. This is incorrect.  The statistic he should have used is the one which defines how many people who walk around outside in violent thunderstorms get struck and killed. The cartoonist, for poetic licence reasons, quotes 1 in 6 to be the numbers he should have considered. Much more dangerous.
People do not seem to realise how easily they can be fooled by a skilled rhetorician, in a forum or debate, who may quote accurate figures but project IMHO entirely false or misleading ideas by using them. Examples of this type include Viscount Monkton of Brenchley, Rush Limbaugh and Glenn Beck not to mention a huge number of politicians. Do these people realise when they are being misleading? Are they fools or are they liars or…?