All over the environmental blogosphere recently is the launch of "The Story of Bottled Water". Slightly more relevant to the US than Europe it nevertheless holds up the relatively new industry of selling water to us, in a very expensive form, to ridicule. It dissects the way marketing organisations twisted the public's perceptions so that money could be extracted from them unnecessarily.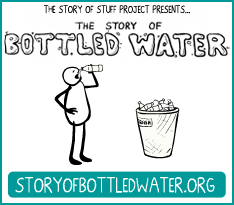 March 22nd is recognized as
World Water Day,
whose goal is "Clean Water for a Healthy World." Sound simple? Well it's not. If you live in a community where you have access to clean water at the turn of the tap, then you are lucky.
And if you
do
have access to clean potable water, then
why are you buying bottled water?
Annie Leonard is famous for her 20 minute short video
"
The story of Stuff
".
Well here us her latest effort
"The story of Bottled water (
click this link for the bottle water website
)
Jersey Climate Action Network
has, as one of its campaign targets for the year, the reduction in the over-use of throw away container bottled water. For sustainable reason for waste reduction reasons and finally for litter reduction reasons (and finally, finally for B.S and ultra pretentiousness reduction reasons!).